It was such a painful and tragic nightmare to lose you that early. You just lived less than 10 years, and I thought you had so many happy years ahead to enjoy life.
I can't ever believe your sudden death. 
I was lucky to have you in my life for my entire immigration journey: from Iran to Czech republic, Sweden, Azerbaijan, Switzerland and Norway.
I had planed to eventually settle down in Norway, and I was happy you would have a stable life here with me, but you just left me with a broken-heart.
Thanks for all your unconditional love, and the company and happiness you gave me. I feel totally alone without you, since you was my only real friend who would always be there when you were needed.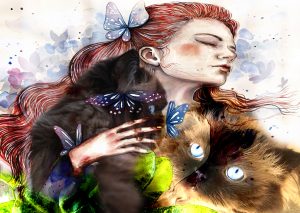 You left your cute paw prints in my heart
& some scars on my body…..
you won't be forgotten ever
& wound of your loss never get healed.
I will miss and think of you forever, and I hope I meet you at least in my dreams from time to time…..
You made this nice summer as bad a summer as I've ever had.
9.Feb.2009 _ 3.Aug.2018